M
y developments pages serve two functions: one is to coalesce my ideas on the perception of images, especially colour, and the second is as a repository for the software I design for manipulating images to experiment with the first.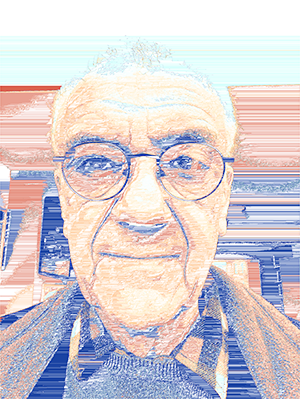 E
very two-dimensional image you look at is an approximation. The most photorealistic image is but an approximation, it is giving you clues that you say
looks like
or
feels like
the scene, mood or emotion it is meant to be depicting but these are just clues, whose effectiveness for your perception is down to a number of factors.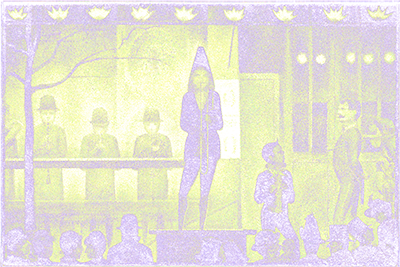 Seurat's
Parade de Cirque
which you can see at
The Met Museum's website
(and I think is OK to reproduce here regarding copyright). This is run through my edge detection software giving a brighter hue to breakness breaks that are brighter, and a darker one to those that are more pronounced, and a more opaque line where the difference in brightness between two adjoining areas is greater. The outcome shows just what an effective and interesting use Seurat made of his light and dark areas. The painting is considered one of his masterpieces, no doubt largely on account of its underlying abstract structure.
Some pictures bear repeated looking at. They show more of interest the more you look at them. Why? It certainly is little if anything to do with how photo-realistic they look, for it that is all it were, then the greatest delight would come from looking at a photo.
It is presumably something to do with the underlying abstract structure, quite often implemented by the artist intuitively.
I am interested in how this process might be aided by automation. This is quite a broad topic that I shall elaborate on on these pages as I get the time.
My interest is in looking at crucial elements of an image, those that provide the strongest clues, and why, in terms of line, shape and colour.
These pages include some software for photo-manipulation, or more accurately image-manipulation (it doesn't have to be a photo). These software scripts are all my own work, they are experimental and attempt to demonstrate something as explained on each product's page. The software is free-to-use, on the basis that you should not expect any support and do not expect it to be fully bug-free. It's experimental.